SpringMoves launched its inaugural Dance Festival in the National Opera House and Dance Hub Wexford on 27th April 2019 linking into worldwide events for International Dance Day. 
We experienced dance influences from around the globe: West African Dance and Drumming, Street dance, Breaking, Hip-Hop, Bellydance, Contemporary dance. 
There were events for everyone, from family friendly workshops to mature dramatic shows.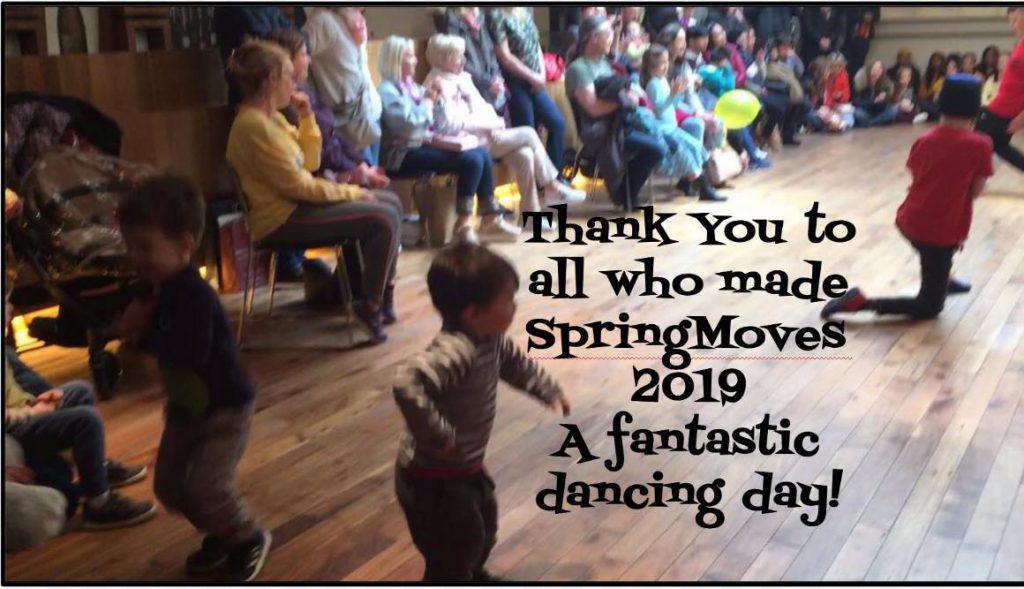 Princesses Can Be Pirates
What is considered "typical" or "normal" behaviour for girls and for boys? Highly energetic, fun and whimsical, Princesses Can Be Pirates, is a dance piece that playfully questions our gender preconceptions.
Two extraordinary performers join forces as they journey into unknown territory, where play is everything and everywhere. In a series of hilarious scrapes and lively escapades, they swap toys and activities in their quest to defy gender stereotypes and break the norm. 
The world holds endless possibility for us to discover who we are and who we want to be, and this duet celebrates it all. This show is about children who want to decide by themselves, for those who can't sit still for very long, and those children who like to imagine more than they can see… 
Duration: 40 minutes
If your mover is curious, creative and loves to explore, then this is the workshop for them! All movers welcome in this warm and friendly environment. A safe and exciting introduction to creative dancing, through exploration and games.
Encouraging individuality, expression and togetherness, your child's adventure with dance begins here…
Duration: 1 hour
Alessandra Bada - Dancer/Educator
Born a Baiana from Salvador, in Brazil's north-east, Alessandra Bada grew up in the outskirts of Sao Paulo city without leaving aside her Afro-Brazilian ancestry. Enchanted by the richness and diversity of African culture, which alongside the Indigenous people, are the roots of Brazilian culture, she found in dance the space to remember, celebrate and share the origin of the land that, despite difficulty and inequality, has a people who still find reasons to smile and celebrate.
Alessandra teaches dances that express the art of everyday people through the body. Bringing rhythms such as Jongo, Coco, Maracatu, Samba de Roda, Frevo, Maculelê, among others, she comes to share some of this mixture in a delicious Northeastern flavor.
With live drumming, this class will teach you the fundamentals of traditional West African dance with emphasis on an understanding of the accompanying drum rhythms. Classes start with a thorough warm up, followed by a sequence of movement across the floor. It is an energetic and fun class, with rhythms that will make you smile and stay with you long after the workshop is over!
Percussionist-Founder/Director
A multi-instrumentalist with extensive knowledge of West African music, Paul has studied music extensively in Africa, Europe and South America. He holds an MSc African Politics from the Schools of Oriental and African Studies (SOAS), University of London and BA International Relations DCU.
Paul began his African music studies in The Gambia in 2002 with Master Drummer Tomas Camara from Les Ballet Djoliba of Guinea. He returned to The Gambia in 2004 to study with Senegalese drummer Boubacar N'Diata. In 2006 he travelled to Burkina Faso and Mali to study Kamele n'goni (African harp), and again in 2008 with Kamele n'goni and balafon master Idrissa Diarra.
Finally, in 2012 whilst working for a child rights charity in Dakar, Senegal he studied with Malian Master Drummer Drissa Kone. In between trips to Africa Paul has had the chance to study and perform with a host of great musicians including Mamady Keita, Babara Bangoura, Sidiki Dembele and Seckou Keita.
TAO is a new work by Human Collective which explores complex relationships, the search for self and the power shift within friendship. Influenced by the writing of Charles Bukowski this tangled piece of dance examines the nuance of blame and shame. By observing the points if intersection between these two states, do we eventually find balance?
"If you're losing your soul and you know it, then you've still got a soul left to lose"Performed by Matt Szczerek and Cristian Dirocie.
Human Collective Biography
Established in 2016, HUMAN COLLECTIVE is a company of creatives from a variety of artistic disciplines. Dance is the thing that brings us together.
As a new Dance – Theatre Company we are committed to developing a dance landscape that places street dance within the context of contemporary arts discourse.
Most recently Human Collective presented FABLE at Dublin Fringe Festival at Project Art Centre.The work was nominated for Best Ensemble Award.
'This is fusion of infectiously expressive art forms…. a bright future surely beckons this company' – The Sunday Times
Sandstorm Bellydance Troupe
Sandstorm is a bellydance and ethnic dance troupe formed about 6 years ago Sandstorm troupe members are all original members of the Khelashi troupe Wexford's first belly dance troupe formed 15 years ago. Sandstorm artistic mission is to showcase bellydancing in a creative light, traditional and contemporary.  Our aim is to raise awareness and build interest in  this beautiful and expressive art form. 
The workshop will be based on Tribal Style bellydancing, with a slight Bulgarian flavour. Participants will find bellydance is also a fun way to build strength, stretch and exercise. The participants will learn a full choreography involving colourful skirts. A point of interest; the choreography taught will be performed in the evening show by Sandstorm troupe.
Breakdancing Bboy Arnie Oldie
Bboy Arnie Oldie is the teacher of Wexford's only active and competitive Bboy (breakdance) Crew, Mad Potaytoz.
Established in 2012.